About
WAKO CLOTHING CO., LTD

 -Catering Ware Division-
Our catering division manufactures products such as aprons, caps arm covers, foot covers and apron covers for
robots in facilities including school kitchens, restaurants, hospitals, food production factories and even for other industries as well.
We provide high quality products for a variety of uses and working conditions.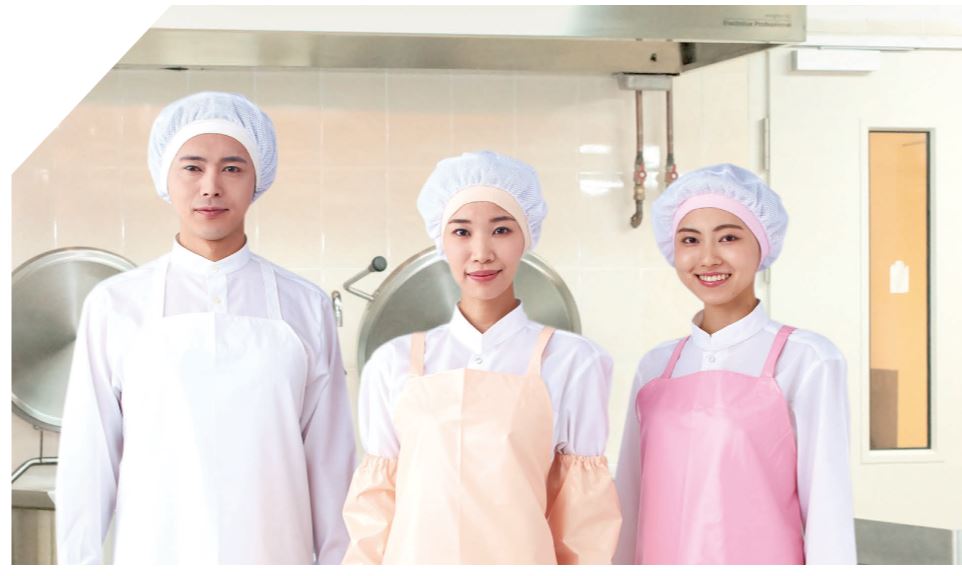 Behind-the-scenes story of i-mesh®Apron development
The idea originally came from baseball uniforms
Nylon is typically considered the most suitable material for industrial aprons because of its durability and high water repellency.
However, it does have the disadvantage of low breathability. Many aprons cover the whole body
so it can get really hot inside the depending on work conditions. This can be quite uncomfortable.
So we decided to direct our attention to the same mesh used for baseball uniforms.
We immediately got to work developing aprons with the great breathability that mesh providing.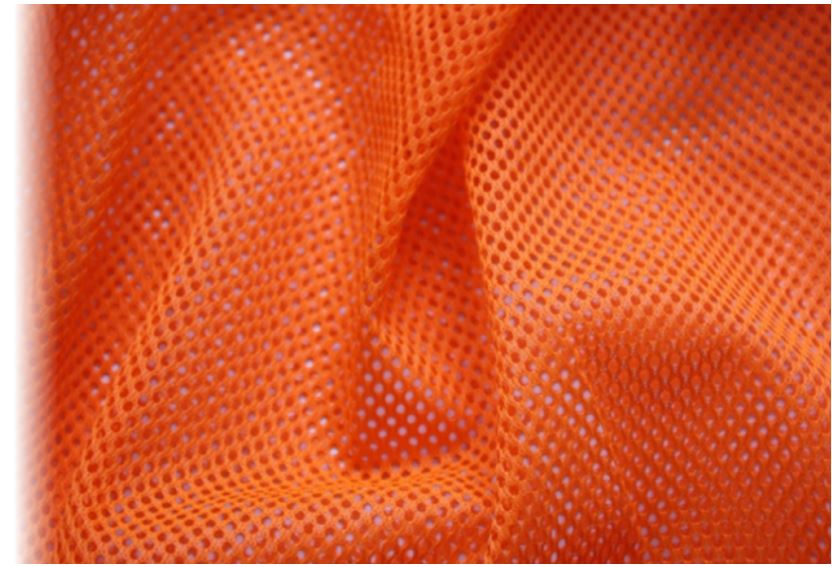 The continuous process of trial and error has led to unexpected discovery.
It actually took us a long time to make a practical application for this product.
Materials with mesh processing consume more water-repellent material than any other standard fabric.
That significantly increases production costs. However, we made the unexpected discovery that the unevenness of the surface of mesh material specifically has a high effectiveness for water repellency.
Far more than we initially expected. And after repeated negotiations with the material manufacturers, we finally managed to release the product at an affordable price.
That was the birth of the breathable, water resistant i-Mesh. We have received great praise in our i-Mesh water-repellency test demonstrations at trade fairs.
Today, it is being widely used in numerous places such as school lunch kitchens, hospitals and universities. i-Mesh has become one of Wako's flagship products.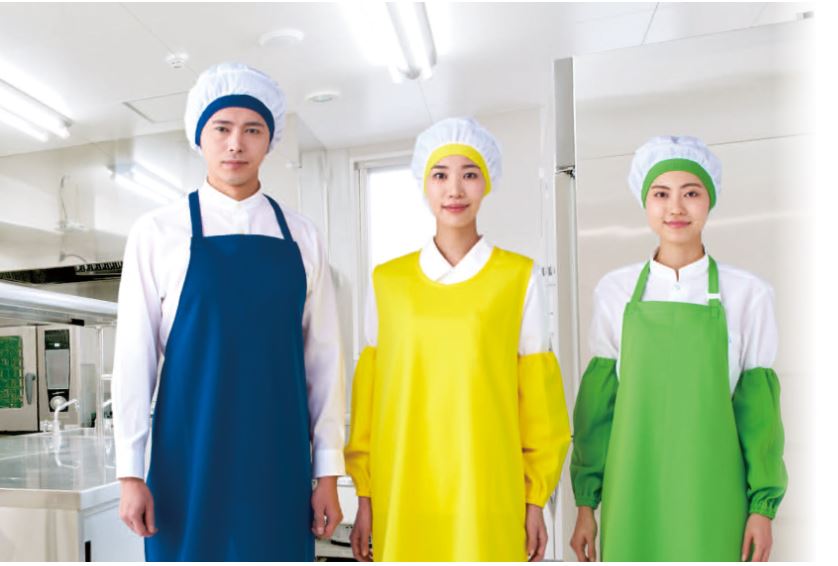 Food Preparation Robot Solution
Robot Utilization in the Food Industry
Manual labor that people were doing by hand such as assembling machines and other dexterous jobs are now automated due to advancement in robot technology. The food Industry is no exception in that development.
Further development of food preparation by robot automation is underway. Accordingly, some consideration needs to be given to the hygienic aspects of automation.
Hygienic Robot Cover
We have produced a special cover for robots using all the methods which have been cultivating throughout our catering ware history. All you need to do is slip over the machine, so initial utilization costs stay low.
It is compatible with hypochlorous acid used during the food-production process so the food prep system performs well and stays hygienic and sanitary.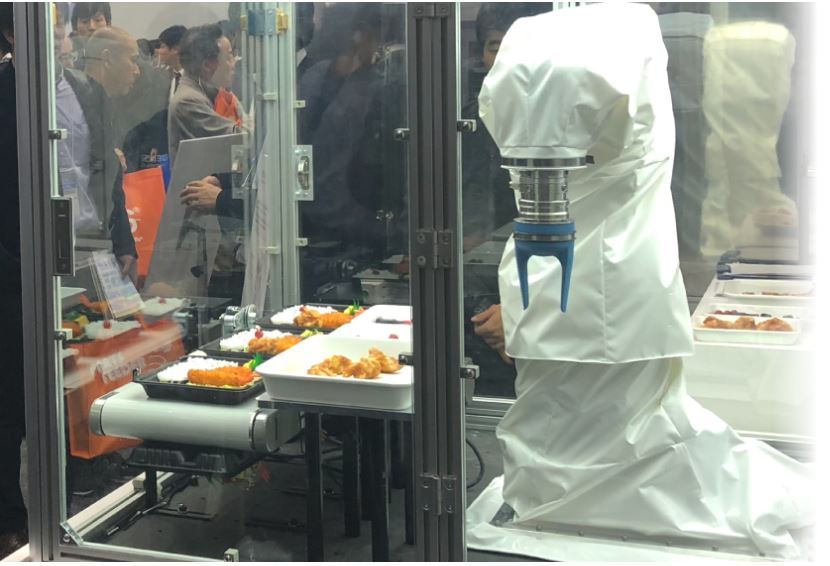 Customize for you
~From as little as just one, for you~
We put our heart into delivering a desirable product promptly which meets your precise professional requirements.
A Fixation on Design
Our products come in a wide selection of colors and make the best possible use of texture. We offer the highly attractive cloth you need in hairdressing and the beauty industry. They fit in perfectly in the stylish salon atmosphere. You can even have your personal embroidery or print, custom-made on the cloth to match your design specifications.
A Fixation on Material
We offer advanced materials with usability and comfort such as the e-Guard, which has both powerful anti-static and ultra water repellent properties, two features not typically found together. We also constantly continue conducting new material development with own original materials to fit our customers needs.
A Fixation on Quality
We have introduced a production management system called " Wis-system" to make every one of our products traceable. In addition, we have made our production system more compatible by developing a special application for smartphones and interlinked operation with state-of-art sewing machines. An automatic sewing system utilizing IOT makes it possible to balance high-quality merchandise and productivity.
Wis_system
In order to track when materials arrive, who manufactured it and who it was inspected by, we have developed our own " Wis_system" for product tracking. Giving a product number, product name and manufacturing number to each item and controlling merchandise centrally through "Wis_system" makes it possible for us to meet customer's requirements towards safety and security.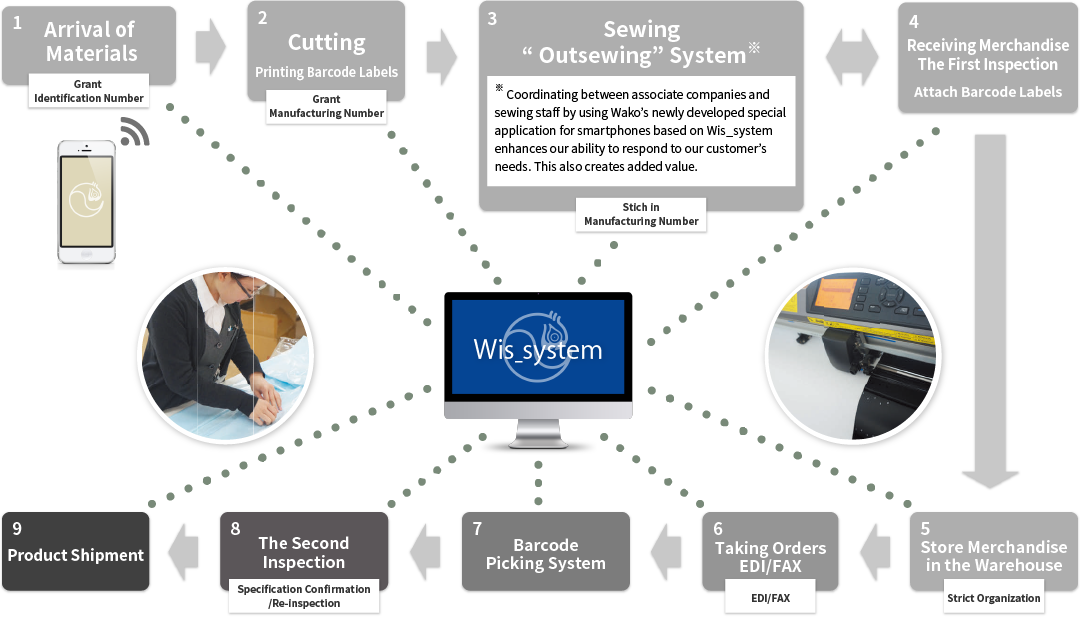 1964
Kyusuke Matsuoka, the founder, started manufacturing and selling clothes and capes for hairdressing at our present location.
January 1966
Incorporated as a company on January 12
March 1985
Entered into the American Market
Began doing business with the Redken ( the largest manufacturer in the U.S. beauty industry )
Started exporting as Made-in-Japan branded " Maiko"
January 1987
The Kanie plant was built ( started exporting products to Europe )
October 1998
Established the Catering Wear
October 2003
Changed corporate name from WAKO CLOTHING CO., LTD to WAKO Co., LTD
November 2004
Received 34th Annual Award for Distinguished Services to Food Industry Technology
( Materials section )
November 2008
Received 38th Annual Award for Distinguished Services to Food Industry Technology
( International Section )
February 2010
Certified ISO9001:2008
November 2013
Received 43th Annual Award for Distinguished Services to Food Industry Technology
( Materials section )
January 2014
Celebrated WAKO Co.,Ltd 50th Anniversary
December 2017
Certified ISO : 2015 business management accreditation
Wako participates in a Red Cup campaign to deliver school meals to as many children as possible.

The international community has adopted 17 Sustainable Development Goals (SDGs) to improve the lives of people by 2030. The second goal of zero hunger is to end hunger, achieve food security, improve nutrition and promote sustainable agriculture, and it is a UN WFP priority. The second goal of zero hunger is to end hunger, achieve food security, improve nutrition and promote sustainable agriculture, and it is a UN WFP priority. Through the Red Cup Campaign, Wako Clothing CO., LTD is working in partnership with the goal of "zero hunger". Part of sales of all Wako products is used for UN WFP "School Lunch Support" activities.
What are the Sustainable Development Goals?
The Sustainable Development Goals also known as the Global Goals, were adopted by all United Nations Member States in 2015 as a universal call to action to end poverty, protect the planet and ensure people that all enjoy peace and prosperity by 2030.
The SDGs for realizing a sustainable world consist of 17 goals and 169 targets, and companies are expected to participate and contribute to achieve these goals by 2030.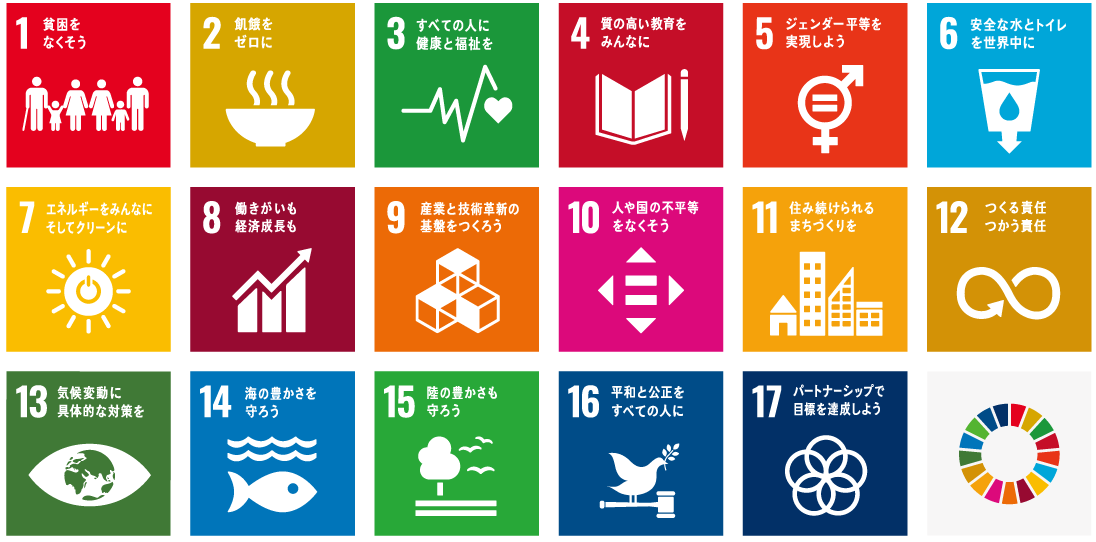 Company Information
WAKO CLOTHING CO., LTD
1964
Manufacturer
USD 6
11 - 30
Taiwan
Corporate Address
Kazuki Honda
No2055 Katsura Kitakaido, Shippo-Cho
Ama-City, Aichi, 497-0004
Japan
T:
+81 (52) 444#3000
Follow WAKO CLOTHING CO., LTD: